Bridge Communities provides a holistic program of services that provide the necessary elements to create permanent change in the lives of families experiencing homelessness in DuPage County.
---
Bridge Communities Transitional Housing Program
Bridge partners with dozens of local churches, community groups, and businesses to provide a comprehensive program for families facing homelessness in DuPage County. The strength of the Bridge Communities Program is in the positive relationship that develops between the client families and their volunteer mentors.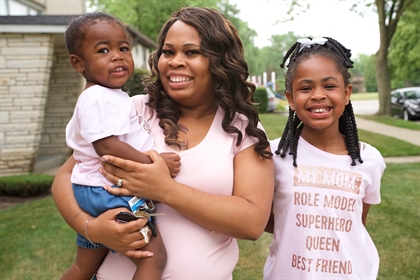 Housing
Client families reside in Bridge Communities owned apartment buildings spread throughout DuPage County in Glen Ellyn, Addison, Carol Stream, Glendale Heights, Naperville, Westmont, and Woodridge. The apartments are primarily two- and three-bedroom units. Families are in the Transitional Housing Program for an average of two years.
Case Management
Bridge Communities' professional case managers are available to assist mentors and client families in accessing resources that are important for families to achieve their individual goals. Case managers lead client families and volunteer mentors through the development of short-term and long-term Program goals that the case managers closely monitor.
Tutoring
Bridge Communities provides professionally certified teachers to tutor all school-age children one to two times per week throughout the school year. Academic scholarships are available to college-bound students who maintain above-average grade point averages and attend accredited colleges or universities.
Car Donations
Families often come into our Transitional Housing Program in need of reliable transportation to help them get to their jobs and take their children to childcare or school. Bridge Communities solicits auto donations from persons in our communities; all cars are checked for safety before being given to client families.
Counseling Resources
At times, client families need additional resources to help cope with life stressors or ongoing emotional issues. To help, Bridge partners with community-based psychological services for short or long-term counseling. These services are available for both parents and children.
Mentoring
Volunteer mentors from Program Partners sponsor and assist the client families as they work to develop the life-skills necessary for self-sufficiency. Mentors help families with budget development and savings plan, debt reduction, financial literacy, self-esteem, emotional support, parental skills and healthy decision making.
Employment & Adult Education
Bridge Communities' employment team assists client families in securing and maintaining employment that will sustain their economic self-sufficiency upon graduation from the Transitional Housing Program. Job readiness training, resume writing, educational coaching, and mock interviewing are some of the counseling services offered.
Family Wellness
As part of our holistic approach to helping our client families achieve lifelong success, we provide them with family wellness services including nutrition counseling, a gardening program, and peer-to-peer support workshops to encourage clients to come together in fellowship, create connections over shared lived experience, and build resilience.
Stability Program
Some client families with more complex needs require the opportunity to stabilize before transferring into our Transitional Housing Program and getting assigned a Program Partner and mentor. In our Stability program, we provide clients with more direct case management and supportive services.
Apply for the Bridge Communities Transitional Housing Program
Apply Now